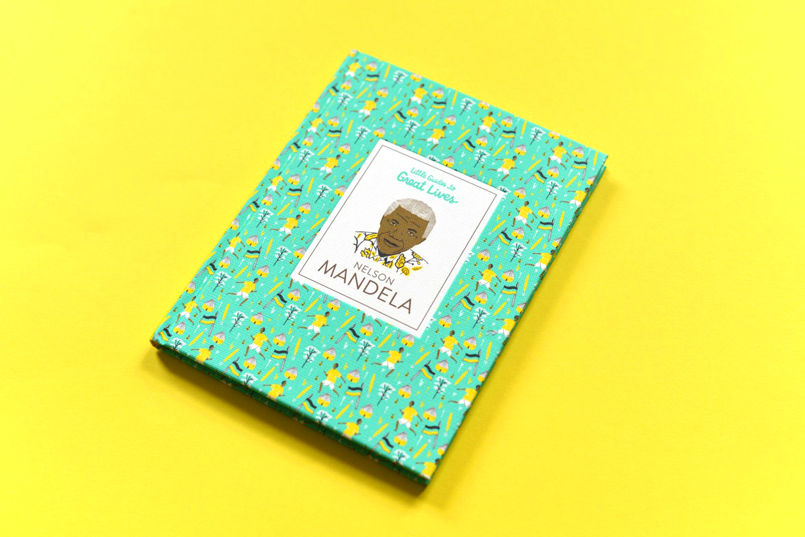 Hannah Warren worked with Laurence King Publishing to create the illustrations for one of Isabel Thomas's 'Little Guides to Great Lives'.

Little Guides to Great Lives is a series of children's books by Isabel Thomas, celebrating the lives of amazing and influential people through history, including Leonardo da Vinci, Marie Curie, Frida Khalo and Amelia Earhart

Our very own Hannah was asked to illustrate Nelson Mandela's story, starting at his childhood and throughout all the challenges he faced and over came in his life. Here's a little insight as to how this wonderful project came together.



How did you approach this brief?

Initially, Laurence King approached me through my agents, Jelly London, to create some sample spreads for the book, including selection of the 3 spot colours in which it would eventually be printed.
For one of the colours I chose to use an almost aqua green (Pantone 2239U in case you are interested) that isn't so easily replicated in CMYK to make the most of the opportunity to use Pantones!

The next stage was to create pencil sketches, playing with the layout and the arrangement of text within the illustrations. It took some time to get Nelson Mandela's "look" down. Drawing a very recognisable face in my own style was a challenge so this took some practice.


Did you have much creative freedom with this?

Yes, the publisher were very open to ideas I had about the page layouts alongside their own art direction. Making sure there was ample room within each spread for the text was important. The publisher were keen to evoke a "screen printed" vibe so some of the colours are deliberately offset.

The process of spot colour printing is quite similar to screen printing in the sense that the colours are already mixed solid colour and it was great to play with that in creating new ones.



What's best to keep in mind when working with a publisher?

Creating work for a book involves a lot of people and it is a lengthy process. I think this project started in February last year and I sent the final art work to them at the end of June the same year.

There were a few tweaks along the way before it was finally printed also. My advice is to always always always keep the layered files and back them up on a server and external drive just incase!



How do you keep collaboration between you and the publisher easy flowing?

Laurence King were wonderful to work for and we divided the project up in manageable chunks so while roughs were being approved I would be working on coloured art work.

It zig zagged back and forth nicely. The design team were really easy to work with too. I'm so happy with how the book came out!




How difficult was it to find your historical references?
The whole book includes 64 illustrations that needed to be researched for historical accuracy, the correct clothing, vehicles, Mandela at different ages etc. This all took time and Katherine from Laurence King was really great at providing reference material from archives (thank you!)

I think Isabel Thomas' writing and research into Mandela's life is really thorough and interesting for adults and children and made it all the more interesting to illustrate. It doesn't play down some of the harsher moments of Mandela's life but instead makes it an approachable topic for children. I really love the ending : )

How would you describe your artistic style generally? What type of brief or project do you enjoy working on the most and why?

I'd describe it as energetic, characterful and colourful. I like to draw loosely with brush pen or pencil and then either keep these lines or re work them in the final art work in Photoshop. None of the work I draw is not exactly life like! It's all a bit wonky. Bit like me : ) I'm happiest working on a brief that teaches me something new, factually or creatively and ones that usually include people and stories.

What are you currently fascinated by and how is it feeding into your work?

Real and imagined environments. The natural world. General human silliness. Hoping to work up some of my sketch book work from a recent trip to Sri Lanka as that was a really inspiring place.
Travel definitely informs my work and getting out from the studio is so important.


The book is out now for sale. If you'd like to buy the book and indeed the others in the set, visit your local book seller or the usual online outlets. And of course, from Laurence King directly!