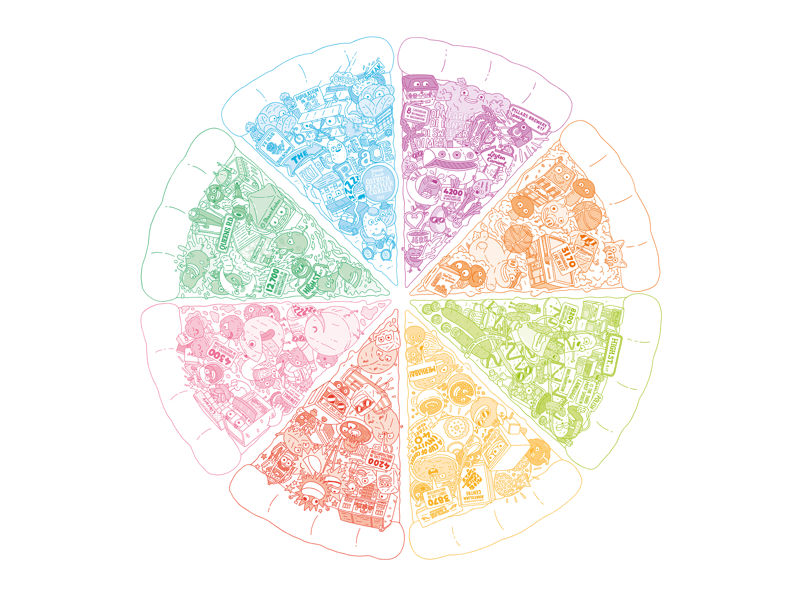 This October, Sodo is celebrating the diversity of Walthamstow by creating an eight-slice pizza that has differentiating and authentic toppings to represent the eight largest communities living in Walthamstow, based on the last census.

We worked with ad agency TBWA, to come up with artwork that would represent each community in Walthamstow. Our first thought, was none other than Damien Weighill, who just so happens to be a local resident of Walthamstow (how's that for serendipity?!)

Check out the pizza slices below:
Jamaican Slice – Jerk chicken on a tomato base and topped with a Julie mango sauce and fresh scallion
Lithuanian Slice – Inspired by a Karbonadas which is smoked pig's ear and smoked pork belly, with 'Boletus' mushrooms and Medzotoju cheese
Romanian Slice - Chiftele meatballs rolled in sesame seeds and breadcrumbs, on a tomato sauce base and Cașcaval cheese
Indian Slice - A traditional Saag Paneer which is grilled paneer cheese studded in fresh spinach, tomato, spices, thickened with cream, and finally topped with green chili
Polish Slice - Based on a Polish village dish called a Zapiekanka which is smoked sausage 'Torunska', salted cucumber ' Malosolny', onions, pickled mushrooms & peppers
Turkish Slice - Inspired by a Turkish Lahmucun which is a spiced finely ground beef, tomato and Capiscum pepper base and topped with sumac, fresh tomato, red onion, parsley, nigella Seeds and pomegranate molasses
Pakistani Slice - A Tandoori Bengan Masala, which is smoked aubergines in a masala sauce that contains onion, tomato, ginger, garlic, chilli, spices and is topped with a mint yoghurt and sprinkled coriander
British Slice - Bubble And Squeak, which is potato, cabbage, carrot and onion on a sage and garlic butter base finished off with Montgomery cheddar cheese
The pizza will also be available on the menu on a monthly basis and the recipes open sourced to all the neighbourhood pizzerias.